Category :

Intermediates/Pharmaceutical intermediates

CAS NO : 50-78-2
EC NO : 200-064-1
Molecular Formula : C9H8O4
Main Specifications : Medical
Synonyms : o-Acetylsalicylic acid 2-Acetoxybenzoic acid;2-Acetoxybenzoic acid;aspirin usp;Aspirin;Acetoxybenzoic acid;Metronidazolum;2-(acetyloxy)benzoic acid;2-(acetyloxy)benzoate;Acetyl Salicylic Acid;Acetylsalicylic Acid;
Package: 25kg in fiberboard-made pail attached with paper or polyethylene bag inside.
Uses : This product is an antipyretic ant rheumatic that is used to allay fever, headache,arthralgia, acticerheumatism,and rheumatoid arthritis.Toothache and dysmenorrhea and as raw material for making anti-carcinogen.
Molecular Structure: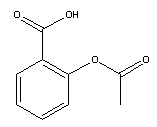 Product description: Content: 99.50-101.0% Clarity and color of solution Clear and colorless Heavy metal: ≤20ppm Free salicylic acid: ≤500ppm Ignition residue: ≤0.1% Loss on drying: ≤0.50% Relative matters: ≤0.1% Appearance white crystal or crystalline powder.