Category :

Inorganic chemicals

CAS NO : 21645-51-2
EC NO : 244-492-7
Molecular Formula : Al(OH)3
Main Specifications :
Synonyms : C.I. 77002;Aluminum hydroxide, dried [JAN];Aluminium Hydroxide;Alumina trihydrate;Aluminium hydrate;aluminum trihydrate;
Molecular Structure: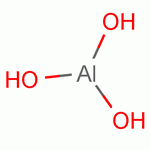 Product description: As major inorganic fire retardants, aluminium hydroxide is listed in the first place because of its dosage. Its fire retardant and smoke suppressioning characteristic can reduce corrosive gas after burning, and it has good arc resistant and coercive force capability. At present, it becomes the ideal environmental product due to its non-toxic product and cheap price, and it accounts for about 45% of the total fire retardants wastage with a rapid development. With the wide application, there's a higher demand of aluminium hydroxide. There will be different demand of impact intensity, toughness, surface glabrousness, and process techniques and so on because it's large quantity of supplement. So we'll focus on ultra-fine treatment, distribution of particle size, surface modified, cladding, re-compound and so on in future. Our company has developed ultra-fine aluminium hydroxide on the basis of the fire retardants such as high foaming polyethylene, non-halogen fire retardants, and epoxy phenolic laminated material ultra-fine aluminium hydroxide, unsaturated polyester, polyurethane hard foam and epoxy resin. The particle size can be regulated. Surface treatment can increase mutual solvency and decrease the absorbability greatly to avoid agglomeration and decentralization. It can be used in thermoplastic resin, thermosetting resin, rubber and so on. At present, ultra-fine aluminium hydroxide can be used in EVA, LDPE, LLDPE, PVC cable material (clad layer and insulation layer) and also in unsaturated polyester, epoxy resin and polyurethane foaming plastic as additive fire retardants. It can be used as stuffing material of polyester resin or acrylic resin when producing artificial marble because of its low iron content, high brightness and particular actinic characteristic, and it has good mutual solvency, low viscosity and can be solidified at normal temperature. Our responsibility is to help customers to select the best fire retardant which is fit for the demand of fire retardant, smoke suppression and process techniques.