Category :

Catalyst and Auxiliary/Rubber Auxiliary Agent

CAS NO : 4979-32-2
EC NO : 225-625-8
Molecular Formula : C19H26N2O2S2
Main Specifications :
Synonyms : CBI-BB ZERO/001988;DCBS;SANTOCURE(R) DCBS;N,N-Dicyclohexyl-2-Benzothiazolesulfenamide;N,N-Dicyclohexyl-2-Benzothiazole Sulphenamide;N,N-Dicyclohexylbenzothiazole-2-sulfenamide;AcceleratorDZ;N,N-Dicyclohexyl-2-Benzothiazole sulfenamide;N-(1,3-benzothiazol-2-ylsulfanyl)-N-cyclohexylcyclohexanamine;N,N-dicyclohexyl-1,3-benzothiazole-2-sulfonamide;Accelerator DZ;Rubber Accelerator DCBS;Rubber Accelerator DZ;ACCELERATOR DCBS(DZ);ACCELERATOR DCBS;
Molecular Structure: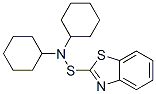 Product description: Chemical name:N,N-dicyclohexyl-2-benzothiazole sulfenamide Molecular formula:C19H26N2S2 Molecular weight:346.58 Appearance:slight yellow powder Melting point ºC≥97.0 Heating loss % ≤0.30 Ash % ≤0.30 Residue on Sieve(150 μm) %≤0.10 Properties: slight yellow powder , Relative Density 1.2, Uses: After-effective accelerant, good dispersion in rubber, long scorch time, safe operation for high activity in the thick reinforcing products and a large dose of plastic material; mainly used in the manufacture of tires, tape, reducing shock products and renovation materials such as gum hanging tire, especially for the copper coating steel wire with yellow adhesive material. Packing: PE film bag lined PP woven bag or laminated kraft bag, Net wt 25kg. Storage: Stored in cool and dry place, avoid fire, insolation and moisture.