Category :

Inorganic chemicals/Inorganic salts

CAS NO : 7778-77-0
EC NO : 231-913-4
Molecular Formula : KH2PO4
Main Specifications : Molecular formula: KH2PO4
Synonyms : Dipotassium dihydrogenphosphate;Phosphoric acid, monopotassium salt;potassium dihydrogenorthophosphate;Potassium dihydrogen phosphate;MONOPOTASSIUM PHOSPHATE;MKP;Mono Potassium Phosphate;Potassium phosphate, monobasic;Potassium dihydrogen phosphate anhydrous;
Package: Plastic knit bag, net weight 25kg. Store at ventilated dry places.
Uses : Used to manufacture metaphosphate in medical or food industry. Used as a high effective K, P compounds fertilizer. It is total fertilizer elements amounts to86%. Used as a basic raw materials for N,P,K compound fertilizer.
Molecular Structure: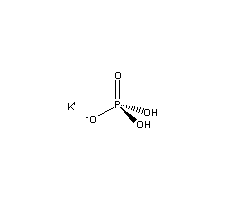 Product description: White or colorless crystals, soluble in water easily. PH of 1% solution is 4.5, density is 2.338, melting point is 252.6.