Category :

Catalyst and Auxiliary

CAS NO : 73250-68-7
EC NO : 277-328-8
Molecular Formula : C16H14N2O2S
Main Specifications :
Synonyms : Hinochloa;2-(2-Benzothiazolyloxy)-N-methyl-N-phenylacetamide;2-(1,3-benzothiazol-2-yloxy)-N-methyl-N-phenylacetamide;
Molecular Structure: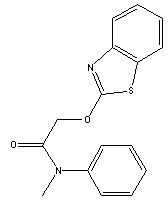 Product description: 1. Basic Information of Mefenacet TC Product Name Mefenacet CAS No. 73250-68-7 Chemical Name Acetamide,2-(2-benzothiazolyloxy)-N-methyl-N-phenyl- Molecular Weight 298.38g/mol TECH& Formulation 96%TC Appearance for TC Colourless, odourtess crystals. Physical and chemical properties Density: 1.318 g/cm3 Boiling Point: 441 °C at 760 mmHg Flash Point: 220.5 °C 2. Specifications for Mefenacet 98%TC Item Standard Appearance White powder A.I content, % 98.0min 3. Applications Mode of Action Selective systemic herbicide, inhibitor of cell growth and division. Absorbed by colephyllum and root, accumulating at the growth point to stop weeds' growth. Crops Paddy field crops Control Annual Gramineae weeds and Leptochloa chinensis, Eleocharis acicularis, wartwort, Monochoria vaginalis, rotala indica and perennial aquatic cyperus rotundus. 4. Usage Dosage e.g. Control of annual weeds on transplanting rice field in cold area: 450~600g a.i./ha. In tropical and subtropical area: 375~450g a.i./ha Specific dosage depends on different situation. Application method Mix with soil, and broadcast. 5. First Aid Measures General advice: Consult a physician. If inhaled. If breathed in, move person into fresh air. If not breathing, give artificial respiration In case of skin contact, wash off with soap and plenty of water In case of eye contact, rinse thoroughly with plenty of water for at least 15 min. If swallowed, do NOT induce vomiting. Never give anything by mouth to an unconscious person. Rinse mouth with water.