Category :

Catalyst and Auxiliary/Rubber Auxiliary Agent

CAS NO : 97-77-8
EC NO : 202-607-8
Molecular Formula : C10H20N2O3S
Main Specifications : crystals
Synonyms : bis(diethylthiocarbamoyl) disulfide;disulfiram;tetraethylthiuram disulphide;accelerator tetd;bis (diethylthiocarbamyl) disulfide;tetraethyl thiuram disulfide;ethylthiudad;ethyltuex;etyl tuex;exhoran;exhorran;formamide, 1,1'-dithiobis(n,n-diethylthio)-;hoca;hocakrotenalnci-c02959;hydrogendisulfide;hydrogenpersulfid;krotenal;n,n,n',n'-tetraethylthiuram disulfide;n,n,n',n'-tetraethylthiuram disulphide;n,n,n',n'-tetraethylthiuramdisulphide;nci-c02959;nocbin;nsc 190940;nsc190940;perkacit tetd;perkait tetd;1,1',1'',1'''-[disulfanediylbis(carbonothioylnitrilo)]tetraethane;Accelerator(TETD);Rubber Accelerator TETD;Rubber Pharmaceutical intermediate Refined(TETD);bis-(Diethylthiocarbamoyl)disulfide;
Package: In 25kg paper bags with plastic inner.
Uses : A fast curing accelerator and vulcanization agent for natural rubber, styrene-butadiene rubber, acrylonitrile-butadiene rubber, butyl rubber, polybutadiene rubber and latex. Suitable for making electrical cable, coated fabric, rubber shoes, tires and colo
Molecular Structure: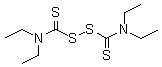 Product description: Item Specifications High grade 1st grade Qualified Appearance Light yellow or gray white crystals Initial Melting Point,°C Min. 66.0 66.0 65.0 Heat Loss, % Max. 0.30 0.40 0.50 Ash, % Max. 0.25 0.30 0.35 Inodorous, density is 1.17~1.30/cm 3 , insoluble in water, dilute acid and alkali, a little soluble in gasoline, soluble in acetone, benzene, methyl benzene, carbon disulfide and chloroform, stimulative to the skin and respiratory tract, storage is stable.