Category :

Polymers

CAS NO : 91-97-4
EC NO : 202-112-7
Molecular Formula : C16H12N2O2
Main Specifications :
Synonyms : TODI;4,4'-diisocyanato-3,3'-dimethylbiphenyl;bitolylene diisocyanate;3,3-dimethyl-4,4'-diphenyl diisocyanate;3,3'-Dimethyl-4,4'-Biphenylene Diisocyanate;3,3-DIMETHYL-4,4-BIPHENYL DIISOCYANATE;3,3-dimethyl-4,4-diphenyl diisocyanate;3,3-Dimethyl-4,4-biphenylene diisocyanate;
Molecular Structure: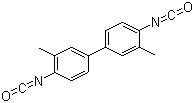 Product description: Name :bitolylene diisocyanate(TODI) ; O-tolidine diisocyanate TODI Molecular Formula :C16H12N2O2 Structure : Molecular Weight:264.29 CAS No : 91-97-4 property :Under the normal atmospheric temperature is a white firm form particle , Flash point: 218 °C ,melting point: 70-72 °C ; Boiling Point: 195-197 °C( 667Pa ), Specific Gravity/Density(80 °C ): 1.197 g/cm3 Specification :Content ≥ 99% Use :Used as intermediate . Packing :20KG cardboard barrel , aluminium foil liner inside Storage :Keep away from heat, sparks, and flame. Keep away from sources of ignition. Store in a cool, dry, well-ventilated area Away from incompatible substances. Store protected from moisture.