Category :

Inorganic chemicals

EC NO : 231-767-1
Molecular Formula : Na4P2O7
Main Specifications :
Synonyms : Sodium pyrophosphate;Tetrasodium pyrophosphate;TSPP;Tetra Sodium Pyrophosphate;Tetrasodium Diphosohate;
Package: In double layer bags of 25Kg net. It must be stored in places well ventilated and dry.
Uses : Applied in industries of detergents as detergent auxiliary, paper production to bleach and electroplating; In food industry it is used as buffering agent, emulsifier, nutrition ingredients and quality improver.
Molecular Structure: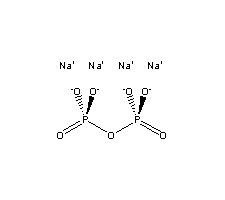 Product description:
Category :

phosphate
Product name :
Tetra Sodium Pyrophosphate(TSPP)
Description :

Byname: Tetra Sodium pyrophosphate
Molecular formula: Na4P2O7
Molecular Weight: 265.9
Standard executed: HG/T2968-1999(Technical Grade)
                                        GB8848-88(Food Grade)
Properties:
White powder; Soluble in water but insoluble in ethanol; Relative density 2.45g/cm3 and melting point 890 ; Deliquescent in the open air. Its aqueous solution shows weak alkalinity and is stable at 70 but will be hydrolyzed into di-sodium phosphate when boiled .
Guaranteed Technical Specifications:

| | | | |
| --- | --- | --- | --- |
| NO | Specifications | Industrial Grade | Food Grade |
| 1 | Assay (as Na4P2O7 )%≥ | 96.5 | 96.5 |
| 2 | P2O5 %≥ | 51.5 | 51.5 |
| 3 | Ortho Phosphates | pass | pass |
| 4 | PH Value | 9.9-10.7 | 9.9-10.7 |
| 5 | Water Insoluble matter % ≤ | 0.2 | 0.2 |
| 6 | Size (through 60mesh sieve) | 90 | 90 |
| 7 | Fluoride (as F) ≤ |   | 0.005 |
| 8 | Heavy Metals (as Pb) % ≤ |   | 0.001 |
| 9 | Arsenic (As)% ≤ |   | 0.0003 |
| 10 | L.O.I. % ≤ |   | 0.5 |