Product description:


Chemical Name:Ethylene thiourea(NA-22)
Molecular Formula:C3H6N2S
Structural Formula: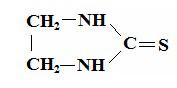 Molecular Weight:102.17
CAS NO:96-45-7
Specification:
Item
Powder
Oiled powder
Appearance (visual inspection)
white powder
Initial M.P. oC≥
195.0
195.0
heating loss %≤
0.40
0.40
Ash %
0.30
0.30
Residues on sieve(150μm), % ≤
0.10
0.10
Residues on sieve(63μm), % ≤
0.50
0.50
Additive, %
\
1.0-2.0
Properties:White powder. Little bitter. Density is 2.00. Soluble in alcohol, lightly soluble in water. No pollution to final products. Stabilization storage
Application:Used for CH and W-type neoprene and chlorethanol rubber etc. Widely used for wires, cables, rubber, pipes, rubber shoes etc.; also used for anti-oxidants, pesticides and synthetic resins.
Packing:25kg plastic woven bag, paper with plastic film bag, kraft paper bag
Storage:The product should be stored in the dry and cooling place with good ventilation, avoiding exposure of the packaged product to direct sunlight. The validity is 1 year
Warmth Notes: The product could be ultrafine powder based according to user needs.