Product description:


Chemical Name: N-Cyclohexy(thio)phthalimide
structure: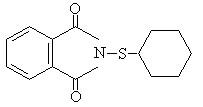 Molecular Formula: C14H15O2SN
Molecular Weight: 261.34
CAS NO: 17796-82-6
Specification:
Item
Crystal
Oiled crystal
Granule
Appearance
White crystal(granule)
Initial M.P.℃ ≥
90.0
89.0
89.0
Loss on drying % ≤
0.30
0.50
0.30
Ash % ≤
0.30
0.30
0.30
Residue on 840μm sieve % ≤
0.00
0.00
\
Additive %
\
0.1-2.0
\
Granule Diameter mm
\
\
2.50
Properties: Specific gravity: 1.25--1.35. Soluble in acetone, benzene, toluol, diethyl ether, ethyl acetate, hot CCl4 and hot alcohol, slightly soluble in gasoline, insoluble in derosene and water.
Application: Pre-vulcanisation inhabitor. Provide predictable scorch control in most sulphur valcanisation; Improved cost performance through marginal stock recovery, single- stage mixing, higher processing and/or curing temperatures; activity is linear and higher than most retarders; may cause bloom above 0.5 phr. It is the anti-scorching agent for both natural and synthetic rubber.
Packaging: 25kg bag.
Storage: Keep container tightly closed in a cool, well-ventilated place. The recommended max. storage life is 1 years when stored under normal conditions.
Warmth Notes: The product could be ultrafine powder based according to user needs.