Category :

Catalyst and Auxiliary

CAS NO : 1592-23-0
EC NO : 216-472-8
Molecular Formula : (C18H35O2)2Ca
Main Specifications : It is white, fine powder, insoluble in water
Synonyms : calcium distearate, pure;Calcium Stearate (Light);Calciumstearatetech;Calciumstearatemin;STEARIC ACID CALCIUM SALT;OCTADECANOIC ACID CALCIUM SALT;CALCIUM OCTADECANOATE;aquacal;calciumdistearate;calstar;dibasiccalciumstearate;calcium dioctadecanoate;(octadecanoato-kappaO)calcium(1+);Calcium stearate dispersion liquid;
Package: 20kg/woven bag
Uses : Widely used as lubricants, slipping agents, heat-stabilizers, mould releasing agents and accelerants in plastic, machinery engineering,
Molecular Structure: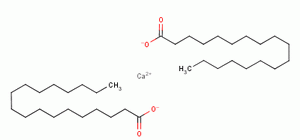 Product description: English Name:CALCIUM STEARATEMolecular Formula:C36H70O4CaCAS 1592-23-0Product Description: Fine white powder. Density of 1.08g/cm3. Melting point 1580C, insoluble inwater, slightly soluble in hot ethanol, the case of acid decomposition ofstearic acid and corresponding calcium salt. Be of water absorption in the air, non-toxic.Use It's the stabilizer and lubricant for PVC ,which enjoy longer stabilizing effect and good long-term thermal stabillity .It can be used as non-toxic food packaging, medical equipment and other flexible film containers. Aslo as halogen absorber in polyethylene and polypropylene, can eliminate the adverse effect of th residual catalyst in the resin on the color and stability of the resin. This product is also widely used as lubricant of polylefin fibers and molded products, as the waterproofing agent of the waterproof rain materials ,and it's available as lubricant and mold release agent for phendic ,amino and other thermosetting plastics & polyester reinforced plastic . And it also be used as grease thicknening agent ,textile waterproofing agent & paints the plain agent.