Category :

Inorganic chemicals

CAS NO : 1066-33-7
EC NO : 213-911-5
Molecular Formula : NH4HCO3
Main Specifications :
Synonyms : Ammonium hydrogen carbonate;acid ammonium carbonate;Ammonium acid carbonate;Carbonic Acid, Monoammonium Salt;ammonium zinc carbonate (2:2:3);Ammoninum Bicarbonate;Ammonium hydrogenocarbonate;
Molecular Structure: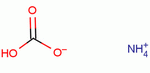 Product description: Ammonium bicarbonate [NH4HCO3], nitrogen (N) the amount of about 17%. White crystal substance, a pungent odor of ammonia. Soluble in water, which itself is physiologically neutral available nitrogen, for a variety of crops and various types of soil, either as basal, but also for dressing when Ammonium bicarbonate as basal, Summer or fertilizing can. Ammonium bicarbonate is a carbonate and acid can not be placed together, because the acid will react to form carbon dioxide and Ammonium bicarbonate, so Ammonium bicarbonate deterioration, but also in rural areas can use Ammonium bicarbonate and acid reaction of this nature will Ammonium bicarbonate placed in vegetable greenhouses, will shed sealed and placed high Ammonium bicarbonate, dilute hydrochloric acid was added this time, Ammonium bicarbonate Council and the reaction of hydrochloric acid to produce ammonium chloride (NH4Cl), water (H2O) and carbon dioxide (CO2). carbon dioxide can promote plant photosynthesis, increase vegetable production, ammonium chloride can be generated again as fertilizer.