Category :

Pharmaceuticals and Biochemicals

CAS NO : 70288-86-7
EC NO : 274-536-0
Molecular Formula : C95H146O28
Main Specifications : white crystalline powder; odorless . soluble in methanol, ethanol, acetone, ethyl acetate easily dissolved, almost insoluble in water.
Synonyms : 22,23-dihydroavermectin;mk-0933;22,23-DIHYDROAVERMECTIN B1;Ivermectin Injection;
Molecular Structure: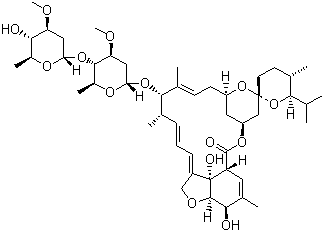 Product description: Ivermectin is a new kind of broad spectrum, high efficiency, low toxicity antibiotic drug resistant parasites, external parasite especially nematodes and arthropods have good flooding killed action. But for tapeworm, trematode and protozoa is invalid. The large ring lactone class parasite drug resistance to nematodes and the function of flooding killed by arthropods, is to increase the insect body inhibitory neurotransmitter gamma aminobutyric acid (GABA) release, and open the glutamic acid control Cl ion channels, strengthen the nerve membrane permeability of Cl, thereby blocking nerve letter No., nerve palsy, eventually lose muscle contraction ability, and killing insect body.