Category :

Pharmaceuticals and Biochemicals

CAS NO : 226578-51-4
EC NO :
Molecular Formula : C19H24FN3O7S
Main Specifications : white or yellowish crystalline powder
Synonyms :
Package: paperboard barrel lined with two-layer polyethylene film bag, net weight: 25KG/barrel.
Uses : used as pharmaceutical material for new-type synthesized broad-spectrum antibacterial.
Molecular Structure: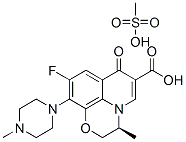 Product description: Storage: stored in dry, ventilated, shady and cool place, sealed and keep away from light.