Category :

Catalyst and Auxiliary/Rubber Auxiliary Agent

CAS NO : 97-74-5
EC NO : 202-605-7
Molecular Formula : C6H12N2S3
Main Specifications :
Synonyms : tetramethylthiodicarbonic diamide;accelerator tmtm;thiodicarbonic diamide , tetramethyl-;tetramethylthiuram monosulfide;tmtm;tetramethy thiuram monosulfide;1,1'-thiobis(n,n-dimethylthio-formamid;acceleratortmtm;aceto tmtm;acetotmtm;ancazide is;anhydridetetramethyltrithiocarbamique;bis(dimethylthiocarbamyl) monosulfide;bis(dimethylthiocarbamyl)monosulfide;carbamic acid, dimethyldithio-, anhydrosulfide;carbamic anhydride, tetramethyltrithio-;carbamodithioic acid, dimethyl-, anhydrosulfide;cp2113;cyuram ms;dimethyl-carbamodithioicacianhydrosulfide;dimethyldithio-carbamicacianhydrosulfide;ekagom tm;ekagomtm;formamide, 1,1'-thiobis(n,n-dimethylthio-;monosulfure de tetramethylthiurame;monosulfuredetetramethylthiurame;N,N,N',N'-tetramethyldicarbonotrithioic diamide;Rubber Accelerator TMTM;Rubber Accelerator MS;Bis(Dimethylthiocarbamyl) Sulfide;ACCELERATOR TMTM(TS);ACCELERATOR TS;
Molecular Structure: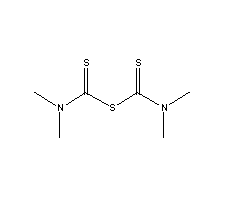 Product description: Chemical name:Tetramethyl thiuram monosulfide Molecular formula:C6H12N2S3 Molecular weight:208.38 Appearance:yellow or light yellow crystal powder Initial Melting point ºC≥103.0 Heating loss % ≤0.50 Ash %≤0.50 Residue on Sieve(150 µm) %≤0.20 Properties: yellow or light yellow crystal powder . Specific gravity 1.37-1.40.No osmyl and no taste. Soluble in benzene, acetone, CH2CI2, CS2, toluene, party soluble in alcohol and diethyl ether, insoluble in gasoline and water . Stable under normal storage condition. Uses: Super-speed curing Accelerating Agent for natural Rubber, CPBR, SBR, NBR, BR & EPT. Mainly used in the production of for cable, tyre, tape, pipe, shoes, transparent products, bright color products and heat-resisting products. Packing: PE film bag lined PP woven bag or laminated kraft bag, Net wt 25kg. Storage: Stored in cool and dry place, avoid fire, insolation and moisture.