Category :

Organic chemicals and Derivatives

CAS NO : 120-78-5
EC NO : 204-424-9
Molecular Formula : C14H8N2S4
Main Specifications : CAS# 120-78-5
Synonyms : 2,2'-Dibenzothiazole disulfide;Accelerator MBTS;Dibenzothiazole Disulfide;2,2-D ibenzothiazole Disulfide;2-(1,3-Benzothiazol-2-yldisulfanyl)-1,3-benzothiazole;2,2'-bis(benzothiazolyl)disulfide;2,2'-Dibenzothiazoledisulfide;2,2'-dithiobis-benzothiazol;2-benzothiazyldisulfide;2-Mercaptobenzothiazole disulfide;2-mercaptobenzothiazoledisulfide;2-Mercaptobenzothiazyl disulfide;2-mercaptobenzothiazyldisulfide;Accel TM;accelerator(dm);AcceleratorDM;AcceleratorMBTS;acceltm;Benzothiazol-2-yl disulfide;Benzothiazole disulfide;Benzothiazole, 2,2'-dithiobis-;benzothiazoledisulfide;benzothiazolyl;Benzothiazyldisuflide;MBTS;2,2'-disulfanediylbis(1,3-benzothiazole);1,3-benzothiazole 1,1-disulfide;Acelerator DM;Rubber Accelerator MBTS;Rubber Pharmaceutical intermediate Refined(DM);Rubber Accelerator DM;2,2'-Dithiobis(Benzothiazole);2,2'-Dithiobisbenzothiazole;DM;Accelerator DM;ACCELERATOR MBTS (DM);
Package: Net weight 25 kg per bag
Uses : Used with other accelerators in tyres, rubber belts and so on. MBTS is regulated for use in articles in contact with food as specified under FDA 21 CFR177.2600, 175.105 and under BgVV XXI, Categories 1-4.
Molecular Structure: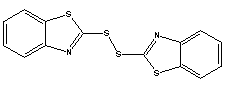 Product description: Molecular Formula:C14H8N2S4 Molecular Weight:332.5 Properties:White or light yellow powder, bitterness, non-toxic, insoluble in water, but soluble in alcohol, ethyl ether, etc..