Category :

Inorganic chemicals/Inorganic salts

CAS NO : 7783-28-0
EC NO : 231-987-8
Molecular Formula : (NH4)2HPO4
Main Specifications : Purity:99%,Nitrogen:21%,P2O5:53%
Synonyms : Diammonium Phosphate;Diammonium hydrogen phosphate;Ammonium phosphate dibasic;Ammonium hydrogen phosphate;di-Ammonium hydrogen orthophosphate;Phosphorus ICP standard solution Fluka;Di-Ammonium Phosphate;Ammonium phosphate, dibasic;Diammonium hydrogenphosphate;Ammonium Hydrogen Orthophosphate;Ammonium Monohydric Phosphate;
Package: 8kg woven bag with inner plastic bag.
Uses : Industry and food additive/raw material.
Molecular Structure: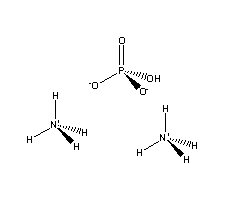 Product description: 1:Purity: ≥99%,Nitrogen: ≥20.8%,P2O5 ≥53%,Moisture:≤0.2% 2: 85% Phosphorus acid + Liquid ammonia. 3: White granular crystal. 4: As a fire-prevention agent for fabric, timber and paper. For food grade it is mainly used as a fermentation agent, nourishment agent, nourishment, and so on. Used as a high effective non-chloride N, P compound fertilizer in agriculture. It contains totally 74% fertilizer elements, used as a basic raw material for N, P and K compound fertilizer. 5: Packing: 8kg packing. Tariff:7%. 6: 24Mt/20'GP. 22Mt/20'GP(with pallet). 7: Delivery time: 10-25days after order placed. 8: Load Port: Chongqing/Tianjin, China.