Category :

Pharmaceuticals and Biochemicals

CAS NO : 9082-07-9
EC NO :
Molecular Formula : C14H22NNaO16S
Main Specifications : CS20/CS60/CS100
Synonyms : Chondroitin Sulfate Sodium;chondroitin 4-sulfate sodium salt from bovine trachea;[(2R,3R,4R,5R,6R)-5-acetamido-4-[(2S,3S,4R,5R,6R)-6-carboxy-3,4,5-trihydroxy-tetrahydropyran-2-yl]oxy-6-hydroxy-2-(hydroxymethyl)tetrahydropyran-3-yl]oxysulfonylperoxysodium;CSA;Chondroitin Sulphate Sodium;Chondroitin sulfate A sodium salt;Chondroitin 6-sulfate sodium salt;Chondroitin Sulfate C Sodium Salt;Csc-Na;Shark Chondroitin Sulfate;Shark Chondroitin;Chondroitin-6-Sulfate Sodium Sult;
Package: ◆ 25kg net weight with inner package of food used film bag in Fiber Drum
Uses : It is used for the auxiliary treatment of neural-headache, neuralgia, arthritis, hemicrania and be effective in reducing the blood lipid. The Chondroitin Sulfate can also be used as addition in the foodstuff and the healthy products.
Molecular Structure: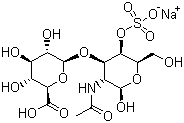 Product description: Inspection Standard EP 2007 Item Criteria 1. Appearance White or slight Yellow Powder 2. Identification Sodium Positive Positive IR Spectrum Conforms 3. Clarity& Color of Solution Absorbance ≤0.35 4. Assay (CPC&HPLC) 95.0% to 105.0%(dried basis.) 5. Specific Rotation -20°~ -30° 6. Loss on Drying ≤12% 7. Residue on Ignition ≤20~30% 8. Limit of Protein ≤3.0% 9. Chloride ≤0.5% 10. Sulfate ≤0.24% 11. Heavy Metals ≤20ppm 12. Arsenic ≤2ppm 13. pH 5.5-7.5 14. Total Bacterial Count < 1000cfu /g 15. Yeast& Mold < 100cfu /g 16. Salmonella Species& E. Coli Negative 17. Particle Size As per seller's specification Packaging/Shipping ◆ 25kg net weight with inner package of food used film bag in Fiber Drum ◆ Transportation: Non-hazardous. Storage Store under dry and cool condition, and keep product air-tight. Shelf Life Three years.