Category :

Pharmaceuticals and Biochemicals

CAS NO : 6556-11-2
EC NO : 229-485-9
Molecular Formula : C42H30N6O12
Main Specifications :
Synonyms : myo-inositol hexanicotinate;Inositol Nicotinate;Inositol Hexanicotinate;cyclohexane-1,2,3,4,5,6-hexayl hexapyridine-3-carboxylate;
Package: 25kgs/drum , with fiber can and polyethylene bag liner inside. Barrelhead lead sealing with iron ring. Stored obturated and hide from light.
Uses : Lowering cholesterol, expanding twig blood vessel. Used to cure high cholesterol and artery congee-sclerosis.
Molecular Structure: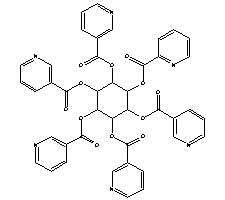 Product description: Quality standards:CP,BP,JP.