Category :

Catalyst and Auxiliary

EC NO : 203-508-2
Molecular Formula : C38H80NCl
Main Specifications :
Synonyms : dimethyl distearyl ammonium chloride;Distearyl Dimethyl Ammonium Chloride;N,N-dimethyl-N-octadecyloctadecan-1-aminium chloride;Dioctadecyl Dimethyl Ammonium Chloride;Dimethyldistearylammonium Chloride;Dimethyldioctadecylammonium chloride;
Molecular Structure: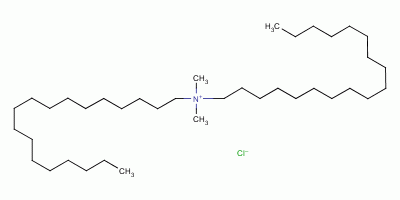 Product description: Structural Formula: [(CH3)2N(C18H3)7]+CL-
Properties: white or yellowish cream or solid; easily soluble in polar solution, slightly soluble in water; good compatibility with various surfactants; good emulsifying, anti-static and anti-corrosive properties.
Quality Standard:
| | |
| --- | --- |
| Appearance | colorless to light yellow transparent liquid |
| | |
| | |
Use: fabric softener. asphalt emulsifier, protective cover of organobentonite, or used in tertiary recovery, sugar-making, printing, dyeing, detergent and cosmetics.
Packing & Storage: 50kg/plastic drum. Kept in dry and ventilating place.